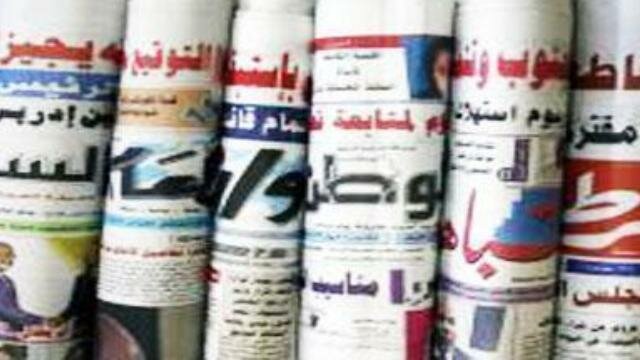 Al-Sudani

* Ghandour Conducts Talks with British Foreign Secretary
.
* 5 State Governors Slam Federal Rule Act.
* Mubarak Al-Fadil: My Talk on Israel is Theoretical.
* 28 Thousand South Sudan Refugees in Jebel Aulia Locality.


Akhbar Al-Youm
* 170 Killed in Tribal Clashes in South Sudan.
* Increasing Irrigation Water Supply top Gezira Scheme Sections.
* London Calls on Khartoum to Preserve Rights in Sudan.
* Traffic Accident in Khartoum-Atbara Highway Claims the Lives of 13 Citizens.

Assayha
* Salva Kiir Declares State of Emergency in Three States.
* 1500 Sudanese Refugees Returned from CAR
* Arrangements to Establish 9 Medicine Factories in Sudan.
* Al Bashir Flies to Turkey to Attend Islamic Summit.

Al-Youm Al-Tali

* Cairo Releases 300 Sudanese Conventional Miners.
* Labour Minister: More Universities Means More Unemployment.
* NCP and Reform Now Discuss the Course of the Upcoming Elections.
* Makkawi and Eila Discuss the Gezira Speedy Train.


Akhir Lahza
* Mubarak Al-Fadil Retracts from His Call of Normalizang with Israel.
* 16 Thousand South Sudanese Children without Families in White Nile.
* CAR to Adapt Sudan National Dialogue Experience.
* UK Demands Sudan to Make Reforms.

Al-Ray Al-Aam
* Bakri Directs Adopting Transparency in Public Positions Recruitment.
* South Kordofan Rejects Calls of Self-determination.
* Foreign Ministry: It Is High Time to Remove Sudan from Terrorism List.
* Labour Ministry: Vocational Education Is the Pillar of Sudan Advancement.

Al-Intibaha

* Finance Ministry Reject Granting Licenses for Cars' Assembling in Sudan.
* Egypt to Purchase 6 Thousand Heads of Cows from Sudan.
* Government Endeavours to Collect US$200 Million to Upgrade an Oilfield.
* MP Calls for Banning the Importation of Soups and Toothpaste.

Al-Sahafa

* Parliament Criticizes the Delay in the Implementation of Agreement with other Countries.
* Muslim Scholars Call for Boycotting the US Goods.
* Sudan Support Arab Initiatives on Land Mining.
* Al Bashir to Launch Berkel Festival Next Sunday.
---
In War-torn S. Sudan, One Town Nurtures a Small-scale Peace

Child Rights Advocates Call for Child-Friendly Media

Next >