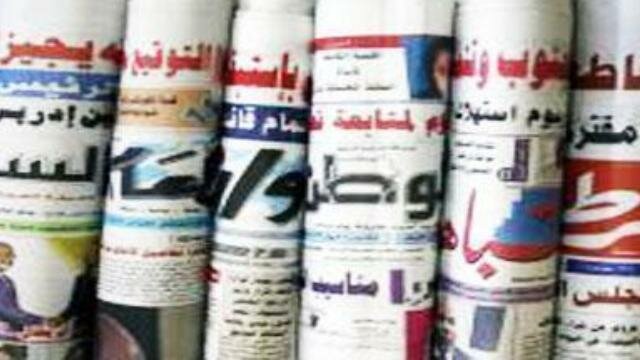 Al-Sudani:
*Constitutional amendments to be tabled before the Parliament today.
*Officer imprisoned for four months for slapping citizen.
*Government: We are ready for deployment of joint forces along border with South Sudan.
*First Vice- President: State Reform programme would be concluded by the end of December.
 
Akhir Lahza:
*Parliamentary official calls for transporting citizens by government vehicles.
*Parliamentary deputies call for final lifting subsidy from commodities.
*American envoy discusses resumption of negotiations in Addis Ababa.
 
Akhbar Al-Yom:
*Serious American efforts to return government and armed movements to negotiation table.
*Bus companies operating at Land Port continue strike.
*Bar Association starts investigation in claims about use of chemical weapons.
*Speaker of Parliament: We do not know reasons behind price hikes.
 
Al-Intibaha:
*Tens of detainees killed at secret prisons in South Sudan.
*American initiative to push ahead negotiation between government and North Sector.
*Khartoum to Juba: We want actions rather than statements on expulsions of armed movements.
*Presidency calls for report on affiliation of hospitals to Khartoum State.
 
Al-Mijhar:
*Workshop in Cairo for reconciliation between Al-Hassan Al-Mirghani and Ombadda faction.
*Al-Mijhar reveals details on agreement between the Workers Trade Union and Ministry of Finance for increasing salaries in budget for year 2017.
*The African Union adopts transitional justice project instead of International Criminal Court.
*National Congress adopts financial and monetary policies for achieving economic stability.

Al-Yom Al-Tali:
*Press Council approves two newspapers of opposition parties.
*American delegation reveals existence of great water lake in Darfur and appreciates Sudanese labor.
*Police Forces launch biggest campaign for stopping growing Hashish in South Darfur.
*Ministry of Health explains challenges facing training of medical cadres in states.
 
Al-Sayha:
*Minister of Information not optimistic over normalization of relations with Washington.
*International organization accuses Salva Kiir of targeting to Nuer and committing crimes.
*Ministry of Health: 11,000 patients undergoing medical treatment abroad.
 
Al-Sahafa:
*Government: We obtain mechanisms to verify implementation of Juba to its commitments.
*Sudanese battalion concludes its term in Yemen and returns to Khartoum.
*Differences at Communist Party renewed due to financial violations.
*Constitutional amendments tabled before the National Assembly.
 
Al-Rai Al-Am;
*Presidential Assistant expresses condolence to Emir of Qatar and his father on death of Sheikh Khalifa bin Hamad Al-Thani.
* Donald Booth and Ibrahim Mahmoud discuss resumption of negotiations in Addis Ababa.
*Sudan Workers' Trade Unions Federation: We are sticking to our demand for increase in salaries.
 
Al-Ahram:
*Subsidy to commodities has distorted economy and transferred people to consumers.
*Government calls on Juba to make actions and affirms its readiness for deployment of joint forces at border.
Ministry of Health: 8% of population enters poverty scope annually due to lack of expenditure.
---
Daily Arabic Newspapers Tuesday, October 25, 2016

Next >