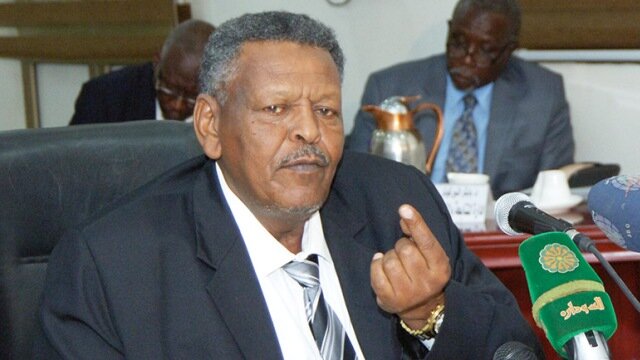 Khartoum - First Vice President of the Republic, National Prime Minister, Bakri Hassan Saleh will address the inaugural session of the 2nd Annual Sudan International Mining
Business Forum and Exhibition on 29 March, with the participation of 29 foreign companies, 36 local ones and countries and 100 foreign dignitaries.
Minister of Minerals, Ahmed Mohamed Al-Sadiq Al-Karouri said that the second annual comes while the country is looking forward after the end of the national dialogue, and the beginning of the procedures for forming a national accord government, in addition to a partial lifting of economic sanctions imposed by the US administration.
The minister stressed, in a press statement, that the forum aims to enlighten and promote Sudan's mineral potential, in addition to benefiting from modern technologies in the exploration and extraction of metals, pointing out to the interest and intention to invest in minerals in Sudan, expecting that the forum to be an indication of openness to all countries in the world.
He revealed a program accompanying the said forum that aims to introduce the potential of Sudan's tourism and to stand on tourist areas in the country and the civilization of Sudan, stressing to benefit from the forum to introduce added value to Sudanese metals through foreign participated companies, indicating that  Sudan is turning into a mineral state, where minerals are found in all states of Sudan, revealing the existence of 461 companies working in the field of minerals in Sudan, noting that many companies proved the existence of all types of minerals in country.
For his part, Director General of the General Authority for Geological Research, Dr. Mohamed Abu Fatima said that Sudan has become an investment front in all sectors, noting that the mining sector represents 40% of Sudan's exports and occupies the second position of Africa in terms of minerals, noting that there are a large number of foreign companies wishing to invest in the country in the mining sector, pointing out that invitation to participate in the forum addressed to all large companies working in this area, pointing out that there are contacts with US companies to enter in the mining sector investment, revealing the existence of mining blocks ready for investment, especially after the lifting of partial economic sanctions on Sudan.
---
Al-Jaz: China Will Implement New Khartoum Airport

< Prev

-Khartoum Hosts the Meeting to Review Funding Gaps and Mobilize...

Next >