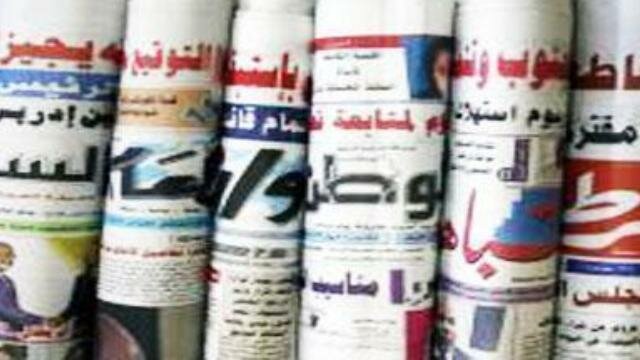 Al-Sudani

* Government: Four Persons Monopolize Wheat Importation and Trade
.
* 40 Thousand Cancer Cases Annually in Sudan.
* Kuwaiti Chief of Staff Arrived in Khartoum on an Official Visit.
* Electricity Minister Affirms Stability of Power Supply During Next Summer.

Akhbar Al-Youm
* NISS Arrests Two Criminal Networks Specialized in Counterfeiting.
* Minister of Agriculture Announces Cultivation of 43.6 Acres this Season.
* Sudan Sticks to Access of Humanitarian Assistance through Its Borders.
* Sudan Permanent Representative in the UN Renews Keenness of Sudan to Cooperate with the Organization.
 
Assayha
* Nafie Proposes Dissolving the Islamic Movement.
* American Plot to Exclude Salva Kiir and Machar and the Formation of Government under Pagan Amum and Deng Alor.
* Sudan and Egypt Allocate 10% of Trade Exchange to Improve the River Transportation.
* Meroe Power Station Production Exceeds 24%.

Al-Youm Al-Tali
* Islamic Movement Rejects Dissolving Proposal or Merger into the NCP.
* 90% of Gold Merchants Out of the Market.
* Information Minister  to Fly to Cairo to Discuss Media Ethics
* Machar Movement Signs Declaration of Principles, Juba Rejects.

Al-Mijhar
* Russian Diplomat: Sudan Is a Strategic Ally.
* Saudi Arabia Agrees to Teach Sudanese Syllabus in Its Private Schools.
* Canadian Medical Team Arrives in Khartoum.
* Humaida: Primary Health Centres Reached 247 in Khartoum State.
Al-Ray Al-Aam
* 8 Thousand Minibuses Out of Service Due to Hikes of Operational Cost.
* Presidency Receives Agricultural Season Matrix.
* Recommendations for the Continuation of Firearms Collection Campaign in Darfur.
* Parliamentary Committee to Inspect Prisons in Sudan.

Al-Intibaha
* Sudanese National Injured in an Explosion in Benghazi.
* Authorities Arrest Foreigners Who Open Fire on Sudanese in Kafouri.
* Government: Peace in Darfur Should be Reflected in the UNSC Resolutions.
* World Cup to Arrive in Sudan on 22nd February.

Al-Sahafa
* International Cooperation Minister: International Support US$30 against Each Refugee Annually.
* Northern State Establishes Crops Bourse.
* New Water Supply Network for Dongola Town.
* IMF Director Urges Arab Government to Reduce the Salaries of Government Employees.


---