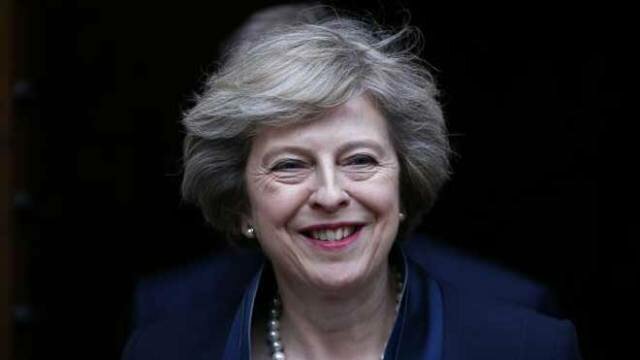 BRUSSELS (Reuters) -The concerted response from Berlin, Paris and Brussels to British Prime Minister Theresa May's announcement last week
of a March deadline to open divorce talks with the European Union made clear the bloc is not waiting idly for London to call.
Statements from German, French and EU leaders show they have been working on maintaining a united front in anticipation of British attempts to play the other 27 members off against each other and have agreed some broad negotiating lines.
Their firmly articulated, central aim is to nip in the bud British demands for free trade without open immigration - once pithily summed up by Brexit leader and now foreign minister Boris Johnson as "having cake and eating it".
Less audibly, cracks have appeared in the EU refusal to discuss options before May triggers a formal process that will launch Britain out the door in two years, with some diplomats suggesting such talks could mean a less radical split.
May's setting a timetable appeased those at home who feared she was bridling at the decision to leave the EU which voters chose in a referendum in June. But it raised fears among others that she had cornered herself into a total break with the bloc.
The German chancellor, French president and heads of EU institutions in Brussels took a common line that May's demands to be free to bar EU immigrants and escape oversight by EU courts mean Britain cannot stay inside the EU single market.
That, EU officials say, means a "hard Brexit", with London's best option perhaps a free trade deal, maybe a little better than a current EU offer to Canada.
President Hollande endorsed the term "hard Brexit" last week, making clear that if that is what Britons want, France will "push this wish through" and ensure Britain ends up truly out.
May hopes for "preparatory work" with her EU counterparts to smooth the launch of formal talks. British officials want "pre-negotiations" before she writes to trigger the two-year exit process under Article 50 of the EU treaty.
If her initial demands are rejected out of hand, she may have little domestic political room to water them down.
"PRE-PARATION"?
The EU mantra is "no negotiation before notification". On Friday, Commission President Juncker said: "We won't negotiate before we've had the British government's farewell letter." (The French term he used also means "suicide note".)
But May's pledge of a March deadline has eased concerns any talks would simply let the British keep talking without suffering the jeopardy inherent in Article 50's two-year time frame.
One senior EU diplomat said setting a date for starting talks meant leaders would now be ready to "help" May frame British demands before she writes her letter: "I wouldn't call that pre-negotiation but, perhaps, pre-paration," he said.
A senior EU official said London may get "positive noises" on what others can accept before the fateful letter: "But," he said, "It will always be a leap into at least half darkness."
British officials and politicians also talk of using economic muscle to secure concessions from other Europeans -- whether poor eastern states which might put British offers of cash to help maintain EU subsidies before the migration rights of their citizens, or German carmakers keen to keep a market.
That, argue EU diplomats and officials, may be to mistake the resolve of European leaders not just to defend their own economic interests but to prevent Britain securing a sweetheart deal that might encourage eurosceptic populism at home.
"Many Brexiters claim that the toughness of the 27 is merely an opening stance, and that, when talks commence, economic self-interest will push them to soften," wrote Charles Grant of the Centre for European Reform. "But that may be wishful thinking."
BRIDGES AND TRANSITIONS
The past week saw EU leaders line up to defend a hard line.
"If we don't say full access to the internal market is linked to full freedom of movement, then a movement will spread in Europe where everyone just does whatever they want," Chancellor Merkel told German industrial leaders in Berlin, telling them she would not be pressured by sectional interests.
Juncker was clearer still about a need to be "intransigent" to counter British lobbying: "We cannot have whole sections of European industry conducting secret talks in darkened rooms behind closed doors with envoys of the British government."
Many British and some European officials say the freedom of movement of labor is not essential in economic terms to a common market in goods, services and capital. The EU messaging of the past week aims to show that it is essential politically.
Even if governments might cut London slack on migration, the federalist European Parliament whose blessing any deal needs is unlikely to soften. A British push to evade EU courts but stay in the single market seems an even longer shot to EU officials.
Juncker's Brexit negotiator, former French minister Michel Barnier, started work a week ago and will tour the 27 capitals to sound out the varying priorities of member states. Barnier's deputy Sabine Weyand, a German Commission staffer and expert on trade, is preparing for some of the toughest aspects of Brexit.
Aides to EU summit chair Donald Tusk, led by Belgian diplomat Didier Seeuws, have already spent three months mapping out issues and procedures to run such complex, lengthy talks.
Officials think they can wrap up the basics of divorce, such as dividing up shared assets and liabilities by 2019, but some kind of transition deal will also have to be struck as it will take years more to conclude a complete new trading relationship.
They are working out how those two sets of talks can run in parallel: "Bridges and transitions will be pretty tricky," said one. "If you want to avoid disruption this will be the key."
---
Saudi Cabinet: Mideast Countries have Right to Use Nuclear Energy for...

Taiwan President Calls on China to Engage in Talks with Taiwan

Next >