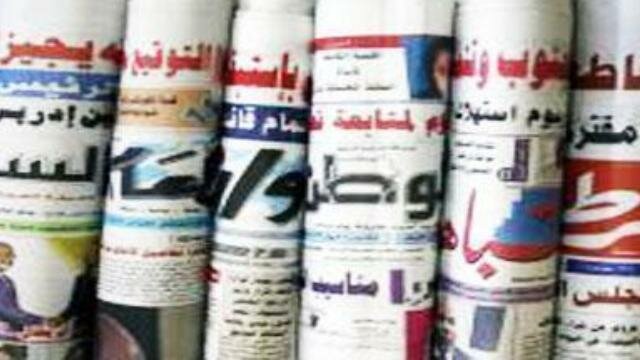 Al-Sudani
* Cairo Bans Sudanese Female Journalist from Entry, FM Summons Egyptian Ambassador
.
* Traffic Accident South Kalakla Claims the lives of 35 Passengers.
* SPLM-N Demands Postponement of Talks to July, Extension of US Sanctions on Sudan.
* Legislature Passes Freedoms Supplement, Parliament Fails in Passing It Due to Lack of Quorum.

Akhir Lahza
* NISS: Juba Endeavours to Prolong War in Sudan.
* Security and Military Cooperation between Sudan and Nigeria.
* Authorities Rescue 9 Hostages from Human Traffickers in Kassala.
*  UNSC Meets over Situations in South Sudan.


Al-Ray Al-Aam
* NISS Calls on Juba to Stop Intervention in Sudan's Internal Affairs.
* Finance Ministry Reveals New Policies and Procedures on Exchange Rate.
* Sudan Opens New Corridor for Humanitarian Assistance Delivery to S. Sudan.
* British-Arab Bank to Open Branch in Khartoum.

Al-Watan
* NCP: Formation of the Government after Endorsing the Constitutional Amendments.
* Al Bashir to Address NCP Shura Council Next Thursday.
* Sudan and Ethiopia Exchange Information to Secure Borders and Defuse Violations.
* Juba Hands Khartoum a Sudanese Culprit.

Al-Sahafa
* Trends to Ban Smoking in Public Places.
* Sudan and Qatar Discuss Military Cooperation.
* Meteorology Predicts Decline in Temperature.
* Health Ministry Reveals Plan to Inspect Factories.

Al-Intibaha
* Communist Party Decides to Reconsider Relations with Agar and Arman.
* Agar and Arman Meet US Delegation in Addis Ababa.
* Sudan Signs Technical Assistance Agreement with the UN.
* Juba Announces Collapse of Talks with Total.

Akhbar Al-Youm
* Finance Ministry Allocates Funds to Purchase Spare Parts for Sudan Airways from USA.
* Mbeki's Consultations with SPLM-N in Addis Ababa Failed.
* Gedarif Hosts Regular Meeting of Sudanese/Ethiopian Military Leaderships.
* Presidential Aide Calls for Free Service to Poor People.

Assayha
* Juba Aborts Coup against Salva Kiir.
* HAC Calls for Assistance to Meet the Huge Flow of S. Sudan Refugees.
* South Darfur Governor Pledges to Release 4 of Armed Movement Soldiers.
* Finance Ministry Affirms Positive Spirits in Washington Meetings.
---
S. Sudan as the Jieng State in the Image of Salva Kiir

Sudanese-Egyptian Diplomacies in a More Frank Engagement

Next >