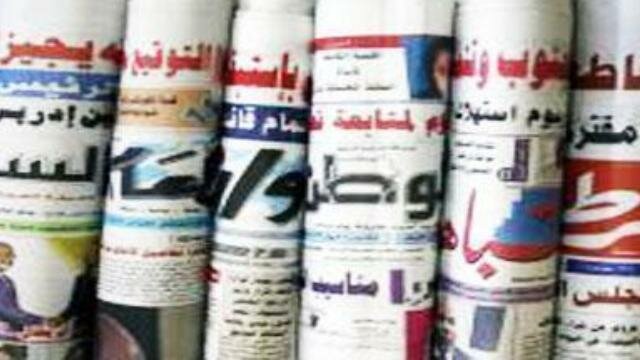 Al-Sudani
* Meeting between Al Bashir and Ali El-Haj on PCP Participation in the Government
.
* Mubarak Al-Fadil: We Don't Want Decoration Participation.
* Humanitarian Assistance Tops the AUHIP Meeting with SPLM-N.
* South Darfur Governor: 3 Thousand IDPs Return to their Home Villages.

Akhir Lahza
* Meeting in Juba to Nominate Salva Kiir Successor.
* Washington Allows for Airplanes' Spare Parts Importation.
* Khartoum Asks Juba to Review the Transit Fees Arrears.
* US$67 Billion Size of Approved Investments in Sudan.


Al-Ray Al-Aam
* Foreign Ministry Starts Intensive Communications to Receive the Sudanese Miners' Properties in Egypt.
* Crisis between Sudanese Oil Corporation and Finance Ministry.
* Finance Ministry in Intensive Meetings in Washington.
* MP Calls for Military Intervention to Liberate Halayeb.

Al-Youm Al-Tali
* Turkey Calls for Tourism Flights to Port Sudan.
* Ali El-Haj: PCP Will Participate in the Government.
* Cairo: US$30 Million Losses of Banning Exportation of Products to Sudan.
* Presidential Aide Visits Injured Persons of Hamar and Kababesh Clashes.

Al-Sahafa
* After 20 Years of Stoppage US Resumes Marine Line through Port Sudan.
* Round Table in Washington over Sudan Foreign Debts.
* Tripartite Meetings in Cairo to Discuss GERD Impact Study.
* HAC: Humanitarian Dossier Became an International Concern.

Al-Intibaha
* Government Demands World Bank Support on Writing-off Foreign Debts.
* Financial Reforms Package to Join the WTO.
* Sudanese/Italian Investment Forum in Rome Next May.
* 80% of Upper Atbara and Siteet Dams Completed,

Akhbar Al-Youm
* IMF and World Bank Recognize Sudan Efforts in Fulfilling Technical Conditions.
* National Forces Alliance Calls for Matrix to Implement National Dialogue Outcome.
* Foreign Ministry Affirms Continuous Contacts with Egypt.
* Central Darfur Covers 10 Thousand Orphans by Insurance Card.

Assayha
* Ali Osman Tops Nominations for Speaker's Post.
* SSMO in Shendi Destroys Expired Commodities.
* Civil Aviation Authority Reveals Re-planning of Airspace.
* New Batch of Humanitarian Assistance Dispatched to South Sudan.
---
Daily Arabic Newspapers Headlines Saturday 22nd April, 2017

Next >