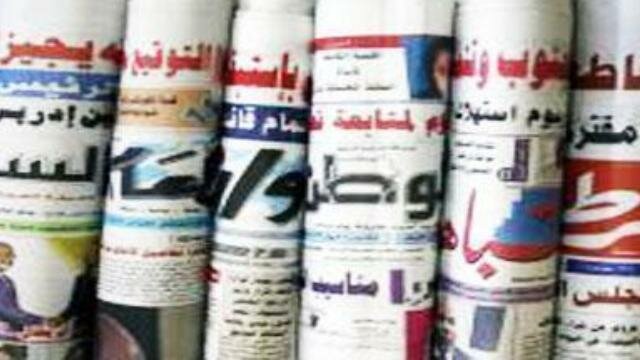 Al-Sudani

* Gosh: We Will Confront Those Who Work to Weaken the National Currency
.
* Decline in the Prices of Some Commodities.
* Sudanese Ambassadors Conference on 26th February.
* Turkish Officials Inspect the Rehabilitation of Ali Dinar Palace.

Akhbar Al-Youm
* Egyptian Official: US$160 Million Loses of Exportation of Food Commodities to Sudan.
* Trade Minister Meets US Charge d 'Affaires.
* UNAMID Starts Construction of Golo Temporary Base.
* 30% Reduction of Foreign Missions Expenditure.

Assayha
* Abdul Rasoul Al-Nour: SPLA Occupies 14 Miles Inside Sudan Territories.
* Clashes Resume between Al-Hillu and Agar Troops.
* Salva Demands Alor to Resign.
* Finance Ministry: Government Imported Huge Quantities of Wheat.

Al-Youm Al-Tali
* Presidency Forms Emergency Committee on SPLA Violations in West Kordofan.
* CBOS Tends to Open New Competitive Markets
* Al Bashir to Visit River Nile State Next Week.
* Foreign Groups Stop Dealing with Yassir Arman.

Al-Mijhar
* SPLA Troops Launch Attack on Misseiriya in Dibab Locality.
* PCP and EU Welcome the Release of Political Detainees.
* Finance Ministry Affirmed the Importance of Insurance of Government Assets.
* Ahmed Al-Mahdi Meets Theodore II
Al-Ray Al-Aam
* Ibrahim Mahmoud: Al Bashir Is a Popular Option which Could Not Be Overcome.
* Foreign Ministry Reveals Decline in Cement and Sugar Prices
* Borders Trade Resumes through Crossings with Libya.
* Authorities Evacuates More than 6 Thousand Conventional Miners in Northern State.

Al-Intibaha
* Gosh; The Status of the Rest of the Detainees Subject to the Improvement of their Parties' Conduct.
* Al-Hillu Leaves Nuba Mountains for Medical Treatment.
* NISS Aborts the Smuggling of 8 Kilograms of Gold.
* Presidential Envoy to Hand Message from Al Bashir to Emir of Qatar.

Al-Sahafa
* Bakri Reiterates Call to Armed Groups and Opposition to Join the Peace process.
* Political Forces Welcome the Release of the Detainees.
* Finance Ministry: New Procedures to Control Sugar Price.
* Atta Appointed Ambassador in the Foreign Ministry.


---
Khartoum Hosts FAO Regional Conference for Africa Continent

Next >