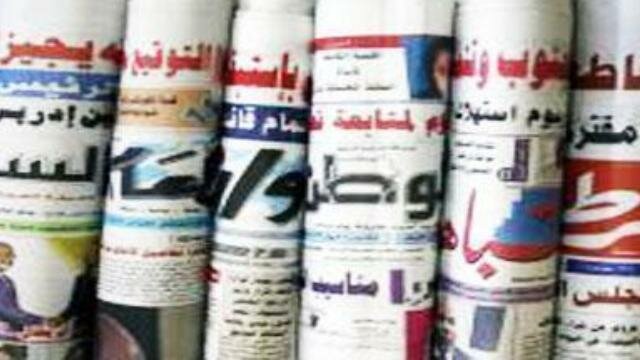 Al-Sudani

* Dollar Exchange Rate Continues Decline, Flow of Expatriates' Remittances.
* Ethiopia Calls on Sudan and Egypt for a Tripartite Meeting on GERD.
* Minister of Guidance Discusses Extremism in the Mosques.
* Sudanese Navy Seizes Egyptian Fishing Boat in the Sudanese Waters.

Akhbar Al-Youm
* CBOS Reduces Official Exchange Rate to SDG27.5 against the Dollar.
* Ghandour Leads Sudanese Delegation to African/Turkish Partnership Conference in Ankara.
* Presidential Aide Announces Support to Youth Stability Projects.
* Ministry of Transportation Organizes Seminar on National Strategy of Transport.

Assayha
* South Darfur Provides 25 Thousand Sacks of Sorghum and Sugar to Workers.
* Government: Anti-corruption on Top of Gosh Agenda.
* Parliament Demands Ministry of Agriculture to Present Export Commodities Matrix.
* International Cooperation Minister Meets WHO Delegation.

Al-Youm Al-Tali
* Finance Ministry: Continuation of Absorbing the Currency for another Week.
* Borders Trade between the Two Sudans Resumes.
* Electricity Corporation Resumes the New Connections.
* General Education Workers Trade Union Signs Agreement to Establish Investment Funds for Teachers.

Al-Mijhar
* Trends to Cancel Money Transfer through Mobile.
* Minerals Ministry Proposes Establishing Minerals Funding Bank.
* Al Bashir: Political Stability is the Main Goal of the Government.
* FAO to Organize Its Regional Conference for Africa in Khartoum on Monday.
Al-Ray Al-Aam
* Finance Ministry: Exchange Rate Stable, Arrangement to Attract Deposits and Loans.
* Siemens Resumes Electricity Activities in Sudan.
* Khartoum Youth Nominate Al Bashir for 2020 Elections.
* Cooperation between 5 States to Secure Butana Area.

Al-Intibaha
* Meeting between Al Bashir and Gosh in the Guesthouse.
* Poverty Survey Starts in 5 States.
* Hummaida: Sudan the Lowest in Terms of Curing Cancer.
* Turkish President Meets Sudanese Foreign Minister in Ankara.

Al-Sahafa
* Arrangement to Announce the Legislative Councils in the Localities.
* South Darfur Governor Affirms Stability of the Economic Situation, Continuation of Firearms Collection.
* Khartoum Governor Opens Number of Primary Health Centres in Ombadda Locality.
* Ministry of Agriculture Expects 45 Thousand Tons of Oilseeds in 2018.


---
Illegal Migration from Sudan–Libya to Europe

Daily Arabic Newspapers Headlines Tuesday 13th February, 2018

Next >