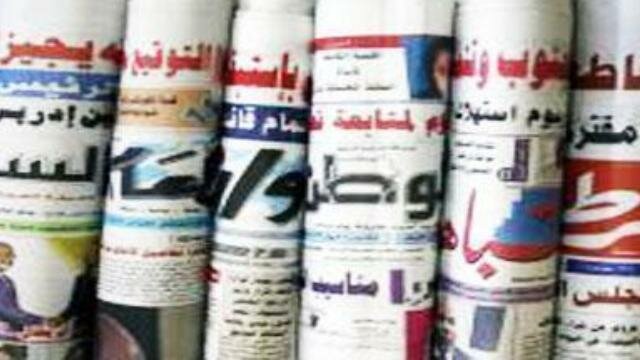 Al-Sudani
* FVP Directs Investigation with Officials in the Cabinet
.
* Al Bashir Meets MPs of the NCP.
* School Holidays Start on 19th November up to the 19th.
* Army Concludes Air Drill in West Omdurman.


Akhbar Al-Youm
* Al Bashir to Visit Gezira State following Dissolving Legislative Council.
* Sudan and Mauritania Sign 11 Documents.
* 45 Thousand Fresh Meat from Sudan to Egypt.
* Saudi Arabia: No Restrictions on Financial Transactions.

Assayha
* Gezira Legislative Council Criticizes the State of Emergency.
* Ministry of Education: 30% Gap in Seating in Basic Level Schools.
* Sudan Ranks 29 on the List of Money Laundering Risks.
* Construction of Port Sudan/Ndjamena within 12 Months.

Al-Youm Al-Tali

* Al Bashir: We Came out of the Blockade Stronger.
* Police Authorities Call on Gezira Students to Commit to the State of Emergency.
* Khartoum Accepts Settlement of Juba Students Fees in Sudanese Pound.
* Importers Complain from the Hikes of US Exchange Rate.


Akhir Lahza
* Eila Opponents: Our Options Are Open.
* Al Bashir Expresses Satisfaction on the Relations with Mauritania.
* Red Sea MPs Reject Egyptian Authorities Practice against Sudanese in Halayeb.
* Attorney General: Fighting Corruption is a Strategic Goal.
Al-Ray Al-Aam
* Parliament: Dissolving Gezira Legislative Council Is Constitutional.
* US Dollar Inches to SDG24
* CBOS Calls for Not Registration of Financial Transactions Companies without Prior Approval from the Bank.
* Social Welfare Ministry: SDG 1 Billion Spending on the  Poor.

Al-Intibaha
* Juba Accepts Settlement of US$262 Million as Part of Transit Fees.
* Sudan to Provide Egypt with Meat for Two Years and 4 Months.
* Khartoum Coordinates with Juba and CAR to Counter Drugs Gangs.
* S. Sudan Defence Minister: No Threats on Juba, the Situation Is Normal.

Al-Sahafa
* Head of AU Commission: Negative Forces Should be Classified.
* Al Bashir: National Dialogue Document Represents the Reference to the Government.
* New Directives to Set Some of the Universities' Syllabuses.
* Mashair Al-Dawalab: 20 Million Citizens under the Health Insurance Umbrella.
---
Can Political Division amongst the Jieng Be the Solution to S. Sudan...

Daily Arabic Newspapers Headlines Tuesday, 7th November, 2017

Next >