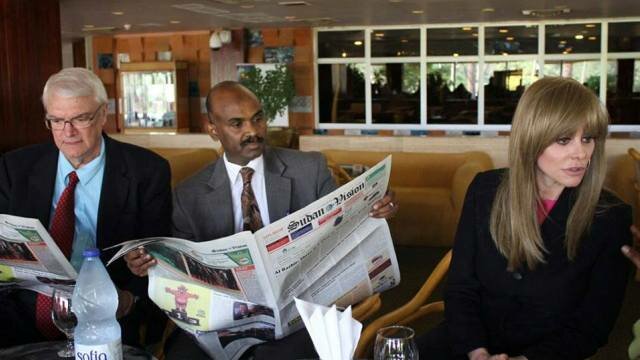 Khartoum - The American delegation that participated in the Sudanese –US Relations Development Conference, held last week in Khartoum, highlighted in an interview with
Sudan Vision, full text to be published in the coming days, the image of Sudan among Americans, expressing their views about what they have seen by themselves about Sudan.
Roger A. Buller, Senior Vice-President, Regional and Branch Manager of Benjamin E. Edwards and Company described his 5-day visit to Sudan as wonderful and an amazing success, saying the Sudanese people are generous, genuine, honest, hard workers and special in every way.
He said unfortunately most people in America know nothing about Sudan, and he was one of them, adding that this miss map was drawn by the Western media. It is the goal of this visiting team to reflect a more accurate image of Sudan and the Sudanese people, he noted. Mr. Buller added that they are committed to go back home, and convey an honest opinion about what they actually have seen in Sudan. Sudan has huge resources promising a good future for the country, he said.
He went on to say that despite the American sanctions imposed on Sudan; there are hundreds of companies investing in Sudan, which is reflecting the great potentialities Sudan has.
Sierra Scott, a journalist who has visited Sudan three times since 2008, said that she had a negative image about Sudan in the past so she insisted on knowing the real image by herself and not depending on hearing negative news in the West by media. She has written hundreds of stories about what she has actually seen with her own eyes in Darfur IDPs camps, and in Gezira State she visited Rufaa to learn about the first beginnings of women's education in Sudan initiated by Babikir Badri and Khartoum. She said that they as an American team have to reflect what they have seen, to change the negative image about Sudan. She described the Sudanese people as generous and honest.
Mohamed Awad-Eljied, a Sudanese-American, Financial Consultant and Advisor, a prominent expert, economist, writer, visionary for a better Sudan in the Western media, has exerted great efforts to reflect a real image of Sudan. He explained that their mission is to know the impact of the American sanctions on the Sudanese  people, pointing out the that the government has its own ways in facing and solving the problem, but they  as a team are mainly concerned with the negative impacts on the people concerning education, health etc.
Eljied explained that the economic sanctions have greatly affected Sudan's economy. He noted that his own point of view as an economic expert is that Gum Arabic, that rich resource, will be the real solution for the economic issues in Sudan.
---
China Pledges to Boost Strategic Partnership with Sudan

Sudan and Ethiopia Sign Security Cooperation Agreements

Next >