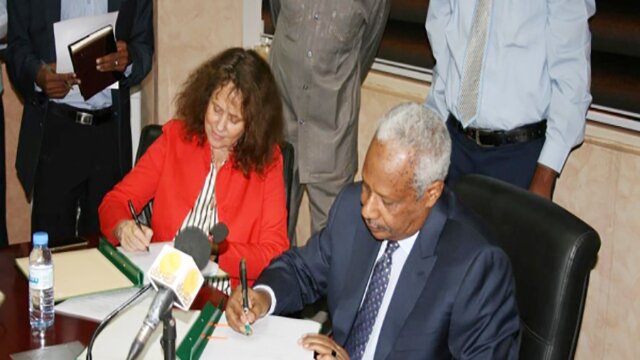 Khartoum - A grant agreement worth US$5 million from the World Bank was signed Monday at the Ministry of Finance and Economic Planning for the improvement of public finance management at the state level in Sudan in four states including the Red Sea, the River Nile, Sennar and North Kordofan.
The Minister of Finance and Economic Planning Badr-Eddin Mahmoud Abbas signed on behalf of the Government of Sudan whereas the Interregional Director for Sudan and South Sudan Caroline Turki signed on behalf of the World Bank.
The project is to be funded from Sudan by a multi-donor fund being administered by the World Bank with funding from the British Department for International Development and the Norwegian Cooperation. It aims to develop the efficiency and the accounting of public finance management and the improvement of transparency systems in the management of public money as to contribute to the reduction of corruption opportunities.
The finance minister said that the project of the finance management improvement of the four selected states will enable them to gain valuable experience in public finance management and to enable Sudan to address the challenges associated with economic transformation.
He added that Britain's International Development Office has been working in Sudan for a long time, affirming Sudan's commitment to its contributions with development partners and calling for the writing off of Sudan foreign debt.
The minister explained that the grant would work to strengthen financial management in the states, help financial administration along with the work to assist in the wealth-sharing in the states by improving conditions, principles and standards.
For her part, Caroline Turkish, the Interregional Director for Sudan, Ethiopia and South Sudan at the World Bank explained that the project supported the financial sector of the Government of Sudan in the four selected states and worked to strengthen the capacity of state financial institutions in the areas of budget preparation, its implementation and its control of dispensing.
Meanwhile, Christopher Beecroft, the Director of the Office of the British Department for International Development to Sudan, pointed out Britain's support to the Sudanese government to improve the use of its resources to strengthen public financial management, adding that the project will enable the states to mobilize more revenue and direct a larger share of their resources to the activities of poverty reduction. He pointed out that this project represents the latest additions to the World Bank's growing program in Sudan. Its projects cover a wide range of domains including education, health, agriculture, natural resource management, climate change, peace-building and public finance administration.