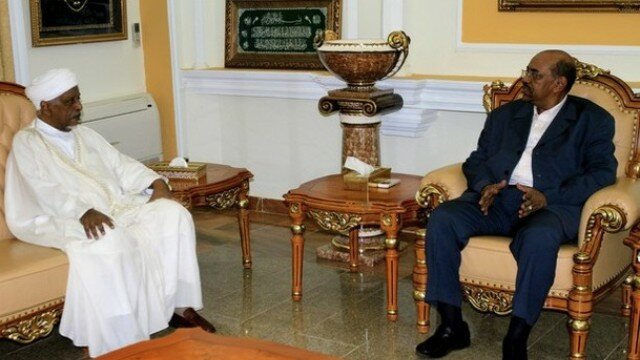 Khartoum (Al-Sammani - Zuleikha) -  President of the Republic Omer Al Bashir will to pay a two-day visit to Cairo during which he is hold talks with the Egyptian President
Abdulfatah Al Sisi on bilateral relations and different issues in additions to the conditions in the Arab and African region as well as the common international issues.
Al Bashir is to hold during his visit a meeting with the leader of the Democratic Unionist Party the origin Mohamed Osman Al-Mirghani and his son Al-Hassan in Cairo whereby the Deputy President of the Democratic Unionist Party Mohamed Al Hassan Al Mirghani has arrived in Cairo coming from the United States of America Tuesday morning and immediately held a meeting with the President of the party while meetings are expected to be held in the presence of the two Demcratic Unionist leading figures Hatim Al Sir and Jaafar Ahmed Abdallah .
An informed source at the party said that the leading democratic figure the Minister of the Cabinet Amir Ahmed Saad Omer will catch up with leaders of the party in Cairo delivering with him the final recommendations of the national dialogue to match them with the essence of Al Mirgani initiative for comprehensive national accord.
Sudan's Ambassador to cairo Abdulhalim Mahmoud has highlighed the segnificance of the joint Sudanese-Egyptian committee which will be convened between  President Al Bashir and his Egyptian counterpart noting that the Sudanese-Egyptian summit is important in terms of form and essence as it convenes for the first time at the presidential level.
He elaborated that the files which will be reviewed by the two presidents tackle all spheres of bilateral cooperation between Egypt and Sudan at the political, deplomtcal, economic, investment and comercial levels as well as legal , cultural and educational cooperation.
He said many agreements and memos of understanding will be signed towrads enhancing cooperation in all spheres and the summit will revew conditions in the Arab and African arenas.
Meanwhile the two Ministers of Foreign Affairs of Sudan and Egypt , Ibrahim Ghandour and Samih Shukri have affirmed on Tuesday exerting efforts  for strengthening bilateral relations between the two countries  whereby they touched on the efforts made for boosting relations specially establsihing a mechanism for political consultaion bteween the two Ministries of foreign affairs .
Shukri has received his sudanese counterpart Ghandour and the acompanying dlegeation in the context of holding the meeting of the sectoral political, security and consulate   committee headed by the two Minsiters of Foreign Affairs whose convocation coincide with the other sectoral committees prior to holding the meetings of the Joint High committee between the two countries at the presidential level for the first time.
---
Belarus and Sudan Discuss Ways of Intensifying Highest-level Dialogue

Nullifying the Sentry Report is Turning a Blind Eye to War on...

Next >