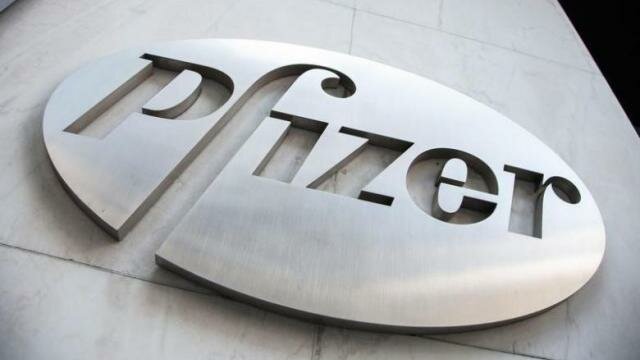 Pfizer Inc (PFE.N)(Reuters) - the largest U.S. drugmaker, reported a quarterly adjusted profit that just missed analysts' estimates,
and the company shaved 4 cents off its 2016 earnings forecast after scrapping development of a cholesterol-lowering treatment.
The drugmaker earned 61 cents per share in the third quarter, excluding special items, missing the average analyst estimate by 1 cent, according to Thomson Reuters I/B/E/S.
Pfizer's new breast cancer treatment, Ibrance, generated sales of $550 million, missing the consensus forecast of $576 million compiled by Evercore ISI.

The company's Lyrica pain drug brought in sales of $1.05 billion, missing expectation of $1.28 billion, but its Prevnar vaccine generated $1.54 billion, above the forecast of $1.48 billion.
Pfizer also said on Tuesday it was abandoning the development of its cholestrol-lowering drug, bococizumab, citing an "evolving treatment landscape".
The company lowered the upper end of its 2016 adjusted earnings forecast to $2.43 from $2.48 per share, while retaining the lower end at $2.38.
Pfizer also bumped up the lower end of its revenue forecast to $52 billion from $51 billion, while reaffirming the upper end at $53 billion.
Bococizumab, which belongs to a pricey new class of medicines called PCSK9 inhibitors, was always going to be late to the party, since two rival drugs hit the market last summer - Praluent, co-developed by Regeneron (REGN.O) and Sanofi SA (SASY.PA) and Repatha from Amgen Inc (AMGN.O).
Pfizer's shares were down about 1 percent at $31.40 in premarket trading.