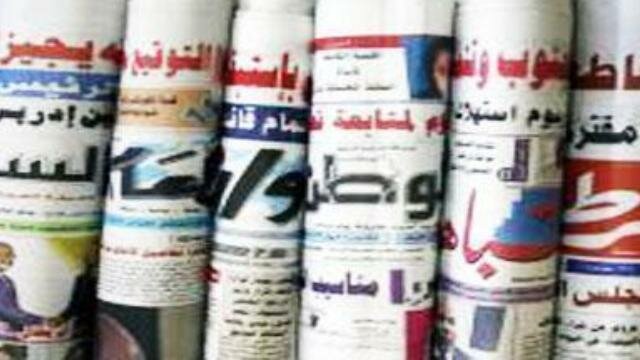 Al-Sudani

* Ghandour to Washington to Meet Top US Officials

* Trade Minister Vows to Confront Gum Arabic Smugglers.
* Al Bashir: Government will Continue Arms Collection
* Al Bashir Discusses with Ali El-Haj National Dialogue Outcomes Implementation.

Akhbar Al-Youm
* PCP Overcomes Disputes, Continues Contacts with Opposition Figures.
* Makkawi: Sudan Airways will Return as National Carrier
* Ministry of Education Stops New Recruitment of Teaching Staff.
* Sudan Completes Preparations to Host East EASF.

Assayha
* Confidential UN Report Denies Sudan Involvement in South Sudan War.
*  Parliament: Investigations Continue on Accusations against  Tourism Minister
* USA and European Companies Endeavour to Open Markets for Sudanese Products.
* Kassala Governor Affirms Keenness to Implement State Reform Programme.

Al-Youm Al-Tali
* Breakaway Faction: Agar and Arman Are Planning to Organize Parallel SPLM-N General Conference.
* Ahmed Al-Turabi Resigns from the PCP.
* Abu Garda: Water Diarrhea Cases in Eastern Jebel Marra Are under Control.


Akhir Lahza
* Decline in Gum Arabic Production from 100 Thousand to 12 Thousand Tonnes.
* Sudan Aborts Egyptian Attempt to Join Halayeb to Its Map.
* Sudanese/Egyptian Committee to Discuss Cross Points Obstacles.
* Al Bashir to Address Sudanese Youth Forum.

Al-Ray Al-Aam
* Auditor General Refers Violations Reports to Prosecution.
* UNAMID Denies Handing Offices to Darfur Authorities improperly.
* Justice Minister Directs Companies Registrar to Receive Complaints.
* Oil Minister Provides Social Services to Oilfields Areas.


Al-Intibaha
* Arrow Boys Leader Assassinated in South Sudan.
* NCP Leading Office to Discuss Governors' Appointments.
* Floods Affects 41 Villages in Hiasaheisa.
* UAE Youth Minister to Visit Khartoum.

Al-Sahafa
* New Crisis within PCP after the Resignation of Dr. Ahmed Al-Turabi.
* FVP Directs Monitoring Zakat Chamber Projects.
* Al Bashir Receives Report on 87 Roads' Projects 
* Justice Minister Meets Bar Association Delegation.
---