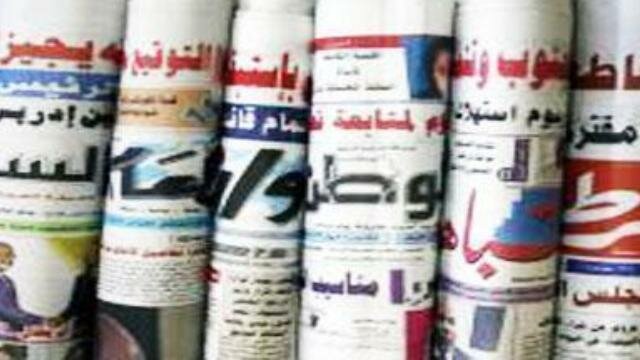 Al-Sudani
*Dust Storm Hit Khartoum as Two Vehicles Wrecked by Fall of Big Signboard
.
*Interpol Detects Vehicles that Entered the Country Illegally.
*Saudi Arabia Declares that Wednesday, August 23, will be First Day of Dhul-Hijja Month.
*Salva Kiir Rejects Holding of New Talks with Opposition.

Akhir Lahza
*Rare Meeting Brings Together Rizeigat and Maalia in the Presence of Vice President.
* National Number Reunites Woman with her Family after 60-year Separation.
* Khartoum Receives First Batch of Chinese Tourists Monday.

Akhbar Al-Youm
* 10-Year Imprisonment Punishment for Harmful Publishing over Social Media.
*Big Fire Destroys 10 thousands Palm Trees in Northern State.
* Meteorology Department Forecast Strong Winds and Heavy Rainfall in Khartoum.
*Kenyatta Declared Winner of Presidential Elections in Kenya for Second Term.

Assayha
*Hassabo: 60 Thousand Vehicles Entered Sudan Illegally.
*Ministry of Communications Rejects Terms Set by the Localities for Construction of Towers.
* First Batch of Hajjs (Pilgrims) Leaves through the Sea.
*Joint Forces Authorized to Confront any Resistance for Collection of Weapons.

Al-Ray Al-Aam
*Hassabo Inspects Collection of Weapons from Maalia and Rizeigat Tribes, Directs Preparation of Lists of Criminals in East Darfur.
* Fire Burns Down Thousands of Palm Trees and Tens of Houses at Sai Island.
*South Kordofan: More than a Thousand Citizens Returned from Rebellion Areas.
*Attorney General Approves Opening of Attorney Office for Informatics Crimes in Nyala.

Al-Youm Al-Tali
*Cairo Bans Utilization of Mahjoub Sharief's Anniversary for Criticizing Khartoum.
*Sudan Rejects North Korea's Firing of Ballistic Missiles.
*Fierce Clashes between Forces of Machar and Salva Kiir near Ethiopian Borders.
* UNHCR Inspects Refugees in East Darfur State.

Al-Intibaha
*Machar Forces Retake Fagak.
*Leading Member of SPLA Arrested in White Nile in Possession of Light Weapons.
*Sudan Condemns Escalation in the Korean Peninsula.
*Red Sea State Takes Precautionary Measures to Ward off Khor Baraka's Floods.

Al-Sahafa
*Hassabo: Special Courts in Darfur States for Weapons and Illegal Vehicles.
*Parliament Rules out Possibility of Tension in Darfur Due to Weapons Collection.
*Sudanese-Chadian Coordination to Combat Crime and Weapons theft.
*South Kordofan State Governor: Peace Has Become a Reality.
---