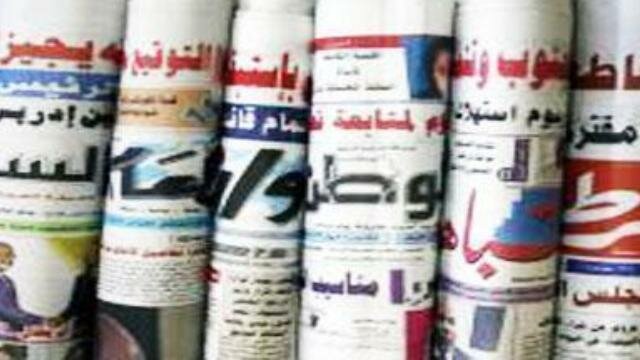 Al-Sudani

* MP Criticizes Security Measures in Dealing with Currency Black Market
.
* Ibrahim Mahmoud Shoulders SPLM-N the Failure of the Round of Talks.
* New Hikes in Cement Prices.
* Petroleum Ministry: 12.850 Tons of Fuel Daily Consumption.


Akhbar Al-Youm
* New Directives to Control Exchange Rate.
* SRF and SPLM-N Agree to Activate Sudan Call Alliance.
* Parliament Economic Committee Calls for Reviewing the Budget.
* Bakeries' Union Expects Decline in Flour Prices.

Assayha
* Auditor Genera: Zakat Chamber Spent SDG3.4 to Government Units in Sennar.
* American Newspaper: South Sudanese Sell their Children against Foodstuff.
* Diplomatic Mission to be Reduced by 30%.
* Health Insurance Pledges to Provide 690 Types of Medicine.

Al-Youm Al-Tali
* Charges against the French Hostage Abductors.
* Mahmoud: SPLM-N Delegation Insisted on Involving Expired Issues.
* US Embassy Announces SDG40 against One Dollar in Consulate Dealings.
* Al Bashir Announces Opening Borders with Neighbouring Countries.

Al-Mijhar
* Petroleum Ministry Announces Selling Cooking Gas by Kilogram in Petrol Stations.
* Finance Ministry Reveals Amendments in Customs Act to Enable Confiscating Smuggled Commodities.
* Two Areas' Government Delegation Returns to Khartoum.
* Bakeries' Union: No Increase in Bread Prices.
Al-Ray Al-Aam
* 120 Thousand Tons of Fuel Arrive in Port Sudan.
* Chinese President Welcomes Al Bashir's Invitation to Visit Sudan.
* Taban Deng Demands Washington Not to Impose Peace on Them.
* AfDB to Launch Port Sudan Water Plants Next March.

Al-Intibaha
* Millions of Counterfeited Currency Entered into Sudan.
* Presidential Aide: We Will Not Allow SPLM-N to Administer the Borders.
* Gezira State Starts Firearms Collection Campaign.
* Presidency: Ready to Release Political Detainees to Avail Conducive Environment

Al-Sahafa
* Second Round of Peace Revival Forum in South Sudan Starts.
* Deputy Speaker: We Are Fed up from War and Demand Peace.
* Government Lift Subsidies of Electricity from Embassies and International Organizations.
* FVP Inspects Civil Service Coordinative.


---