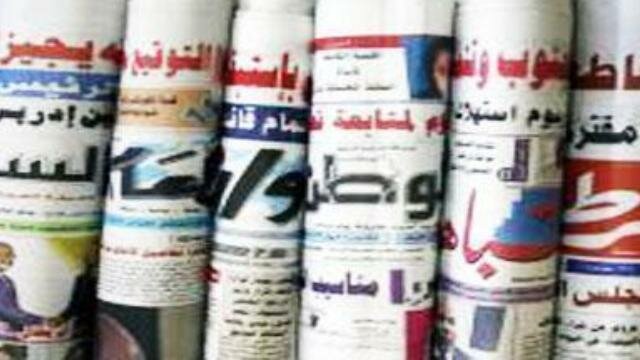 Al-Sudani

* Yemeni Official: Arab Alliance will Support Sudan against any Attack
.
* Al Bashir: Sudanese Army Became Striking Power
* Al-Karouri: US Administration on Religious Freedoms in Sudan Lacks Objectivity.
* US Dollar Exchange Rate Hits SDG34 in the Black Market.

Akhbar Al-Youm
* US Warning to Egypt from Losing Sudan, Tensions Escalates on River Nile.
* UN: Darfur Armed Groups Activities Declined, Involved in Looting.
* Youth Round the President Organization Chief Denies Receiving Funds from British Bank.
* Egypt Rings  Alarm Bell on River Nile Water Issue

Assayha
* Angelina Tenj: Taban Deng Attempted to Assassinate Me,
* Students Violence in Delenj University, Study Suspended.
* Parliament Intervenes on Gasim Badri Issue.
* White Nile State Cancels Levies on Flour.
 
Al-Youm Al-Tali
* NCP Refutes Allegation about Coup Attempt in Sudan.
* President Addresses Khartoum International Prize Competition on Quran.
* UN Admits Improvement of Situations and Decline of Armed Groups Activities in Darfur.


Al-Mijhar
* Qatar Central Bank Open Banking Transactions with Sudan.
* US Magazine: Sudanese/Egyptian Dispute Blows up GERD Talks.
* Unprecedented Hikes in Steel and Cement Prices.
* Joint Patrols to Control Eastern Sudan Borders.

Al-Ray Al-Aam
* Workers Union Announces Increase of Wages to Meet the Price Hikes.
* UN: Firearms Collection Contributed in Improvement of the Situations in Darfur.
* President of the Republic Forms a Committee on Salaries and Wages Issue.
* NCP Shura Council to Meet Today.

Al-Intibaha
* Parliament: MPs behind Hindering Gezira Scheme.
* Political and Civil Organizations Condemns Vice Chancellor of Ahfad University for Beating up Students.
* Secret Meeting between First Vice President and Dr. Ghazi Salah Addeen

Al-Sahafa
* International Condemnation on Trump's Racial Statements.
* New Military Front against Salva Kiir
* UN Affirms Security Stability in Darfur
* US Activist Intends to Walk on Foot from El-Fashir to Khartoum.
---