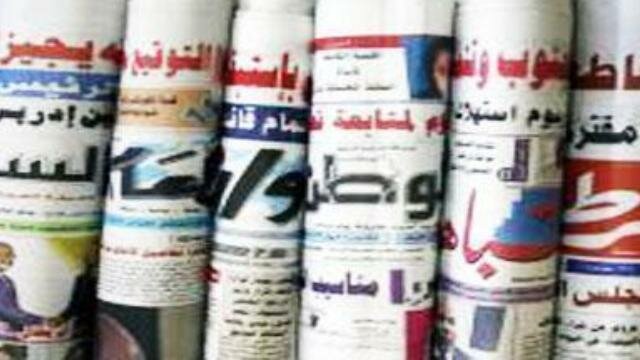 Al-Sudani

* Al Bashir: Insurgency Came to an End, Agar Displaced His People
.
* Al Bashir Forms a Committee to Control the Situation in Khartoum Airport.
* Afwerki Visits Egypt.
* Defence Minister: Sudan is Facing the Challenges of Drugs, Corruption and Unemployment.


Akhbar Al-Youm
* Egyptian Foreign Minister Commends on Excluding Sudan from GERD
* Ghandour's Visit to Egypt Postponed.
* Kassala Governor Meets Security and Popular Leaders on Closing the Borders.

Assayha
* Interior Ministry: Peaceful Demonstrations Are Allowed.
* South Kordofan State Affirms Commitment to Ceasefire Extension.
* Germany Funds Capacity Building to Reconstruct Darfur with 6 Million Euros.
* Ahmed Saad Omer: Freedom of Expression should Consider the Conditions Facing Sudan.

Al-Youm Al-Tali
* Informed Sources Reveal Egyptian Hostile Escalation against Sudan.
* Sudan Renews Complaint against Egypt in the UNSC.
* Parliament Summons Minister of Education on Sudan School Certificate Fees.
* Interior Ministry Participates in Security Conference in Malaysia.


Al-Mijhar
* Al Bashir Directs Opening Branches for Medical Supplies in Khartoum and Gezira.
* Foreign Ministry Regrets Including Sudan in Less Religious Freedoms States.
* National Legislature Deliberates Emergency Declaration.
* Minister of Communications: 23 Million SIMs Registered.
Al-Ray Al-Aam
* Defence Ministry: We Exchange Security Information with 10 East African States.
*
* Sudan Restores Some of Its Endowments in Saudi Arabia.
* Academics: Cairo Is Responsible for Tensions with Khartoum.
* Ambassador Abdulmahmoud Discusses with Ghandour the Tense of Relations with Egypt.

Al-Intibaha
* Foreign Ministry: No Intension to Revoke Consultations Committees with Cairo.
* South Kordofan: Two Years without Violations or Attacks.
* PCP: Lifting Subsidy on Wheat Is Unjustifiable.
* Kamal Omer: Declaring Emergency in Some States Violates the Constitution.

Al-Sahafa
* Hassabo: What Is Going On Is Restructuring of Sudanese Economy.
* North Kordofan Provides Commodities to Workers.
* Factions of JEM Integrated and Form a Political Party.
* Parliamentary Committee Urges Reducing Disorder and Addiction Rates.
---