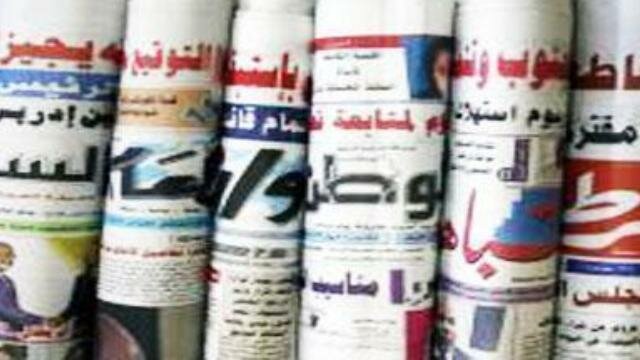 Al-Sudani

* Chief of Staff Hands Message from Al Bashir to Ethiopian Premier
.
* Directives to Establish Special Police to Monitor the Prices.
* Authorities Seizes Smuggled Gold in Khartoum Airport.
* Al Bashir Receives French Businessmen Delegation.
* 

Akhbar Al-Youm
* Ministry of Finance Denies Increase in Fuel Prices.
* Al Bashir Addresses Beja Congress Party General Conference.
* Government to Determine the Return of Sudan Ambassador to Egypt within 48 Hours.
* Sudan Renews Its Complaint on Halayeb to UNSC.

Assayha
* El-Tayeb Mustafa: Cairo Plans to Topple the Regime.
* US Dollar Exchange Rate Inches to SDG30.
* Presidential Decree to Form Executive Committee for Sudanese/Turkish Cooperation Ex
* UNSC to Discuss UNAMID Performance Report.

Al-Youm Al-Tali
* Parliament Endorses Unanimously the State of Emergency in Kassala State.
* Sudanese/Ethiopian Coordination on Regional and International Issues.
* NCP: The Economical Measures Are Harsh, The Citizens Has the Right to Protest.
* MISS Aborts the Biggest Attempt to Smuggle Flour


Al-Mijhar
* Ghandour: We Informed Egypt about the Reasons of Recalling the Ambassador.
* Rapid Support Forces Abort Smuggling Gold Attempt.
* Al Bashir Calls for Practicing Democracy within the Political Parties.
* Musa Mohammed Ahmed Calls for Deliberations over Establishing Political Visions Forum.
Al-Ray Al-Aam
* Khartoum State Reveals Measures to Control the Price Hikes.
* Al Bashir to Visit Blue Nile State.
* Informed Source: We Didn't Close the Borders with Egypt.
* Finance Ministry Provides Funds to Recruit 1000 Pharmacists.

Al-Intibaha
* MPs Calls for Imposing State of Emergency All over the Country.
* Plans and Meetings in Cairo to Topple Khartoum Regime.
* Parliament to Question Finance Ministry on Price Hikes.
* SSMO Destroys 17 Tons of Expired Commodities in White Nile State.

Al-Sahafa
* Presidency: Declaration of State of Emergency Doesn't Touch the Freedoms.
* Kassala State Announces Mobilization.
* Al Bashir to Address Martyr's Festival in Sennar.
* MPs Intend to Raise an Appeal against the Declaration of Emergency in Two States.

---