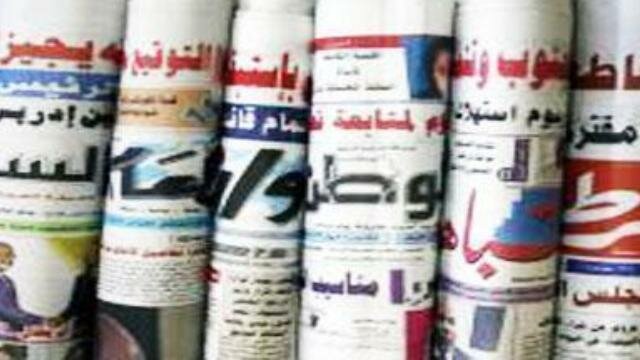 Al-Sudani

* Details on Closing the Borders with Eritrea
.
* Bakeries'' Union Announces the New Prices of Bread.
* Banning Plastic Bags Resulted to the Stoppage of 104 Factories.
* Consultations between Sudan Representative in the UN and UNSC Chairman.


Akhbar Al-Youm
* Mubarak Al-Fadil: 2018 Budget Is Realistic and Transparent.
* Ibrahim Mahmoud Calls for Removing Obstacles Facing the Finance of Youth Projects.
* UNSG Calls on Khartoum to Expedite the Procedures of UNAMID Base in Jebel Marra.
* Students Fund Secretary General Commends the Endorsement of the Act.

Assayha
* Ghazi: Budget Reveals the Absence of Visions to Deal with the Problems.
* Directive to Provide Bread to the School Students in Khartoum State.
* Plans to Cultivate 1.5 Million Acres of Cotton.
* Hisham Osman Appointed Assistance to the Attorney General.

Al-Youm Al-Tali
* Shendi University Criticizes the Bad Administration of Garbage Crisis.
* Snow Bomb Hits the USA.
* Sudan Ambassador to Cairo Meets Ghandour
* Al-Hilu Arrives in Juba, Meets Salva Kiir.


Al-Mijhar
* Presidential Aide: Our Relations with Eritrea Are In Its Best.
* MP Calls on Al Bashir to Dissolve the Government and Cancelling the State Ministers posts.
* Industrial Chambers Union Threatens to Stop All Cement Factories Due to the Increase of Electricity Tariff.
Al-Ray Al-Aam
* Khartoum Police Authorities Deny any Protests.
* Water Resources Technical Committee Chief Denies Stating to any Party on GERD.
* Khartoum and Juba Review the Implementation of the Security Arrangements.
* Considerable Hikes in Commodities.

Al-Intibaha
* Sudan Deploys Army on the Borders with Eritrea.
* Government: Halayeb Issue to Be Resolved either through Negotiations or Egyptian Evacuation.
* Finance Ministry Reveals Measures to Operate the Crippling Factories.

Al-Sahafa
* Popular Moves to Revoke Four Freedoms Agreement with Egypt
* UK and USA Welcome the Extension of Ceasefire in the Two Areas.
* Government Closes Borders with Eritrea.
* French Agricultural Delegation to Arrive in Khartoum on 22nd January.


---