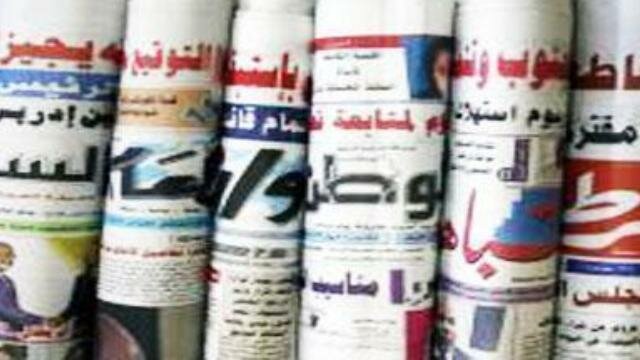 Al-Sudani
* Expected US Decisions for the Start of Lifting

* Health Ministry: 40% of University Students Smoke, out of them 20% females.
* 104 Sudanese Nationals Benefit from US Temporary Protection Act.
* Ghandour: Halayeb Issue Is the Key for Improving Bilateral Relations with Egypt.

Akhbar Al-Youm
* US Administration Admits the Decline of Conflict in Darfur.
* Khartoum to Investigate Harassment Allegations against Diplomat in New York.
* SPLM-N (Al-Hilu) Calls for Self-determination for Nuba Mountains.
* Khartoum Host Arab Teachers' Union Meetings.

Assayha
*  Al Mahdi Regrets SPLM-N Calls for Self-determination.
* Minister of Agriculture Reveals New Policies to Revive Gezira Scheme.
* 30% of Schools Boys Suffer Physiological Pressures: Study
* Mubarak Al-Fadil Leads Sudanese Delegation to Juba.

Al-Youm Al-Tali
*  Cairo Says that there Are Disputes on GERD Primary Report.
* Aerial Spray Companies Threaten to Enter into Strike.
*Disputes within the Sudan Revolutionary Front in Paris.
* Parliament Speaker: Israel Has Nothing to Do with Lifting of US Sanctions.

Akhir Lahza
* Imminent Visit of US Officials to Khartoum.
* Official Delegation to Visit Juba.
* Increase in Breast Cancer in Sudan: Study.
* Al Bashir Thanks Saudi Arabia, UAE on Their Efforts for Lifting US Sanctions.

Al-Intibaha
* Government: We Will Not Allow for the secession of Another Part of Sudan.
* Two Million Unemployed Persons in Sudan: Study.
* US Companies to Introduce Modern Technology to Treat Breast Cancer.
* Presidency: We Don't Support Terrorism, but we Fight It.

Al-Sahafa
* Hassabo: 60 Thousand Vehicles Entered Sudan Illegally.
* Ghandour: Halayeb Issue Should Be Resolved Through Halayeb or Arbitration.
* RSF Seizes Shipment of Smuggled Beauty Creams.
* IGAD Meets Kiir  Government Opposition Leaders  in Khartoum.

* Mahmoud Kan: Armed Groups will Lose in Case of Missing the Peace Process.
* FVP Meets the German Envoy.
* Horn of Africa Issue Meeting Convenes in Khartoum.
---