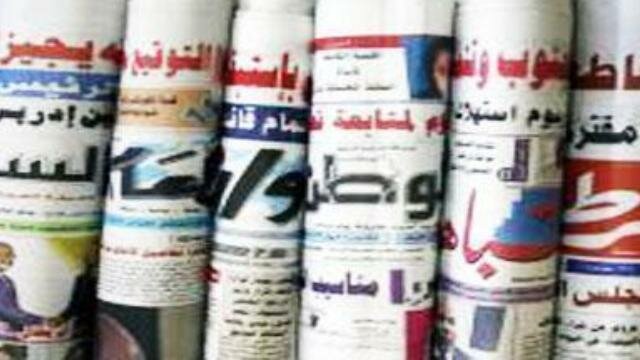 Al Ray Al-Aam
*  China Welcomes Lifting of Sanctions
.
* Electricity Corporation Denies Including Garbage Fees in Its Bill.
* Yassir Yousuf Calls Governments to Work against Extremism among Youth.
* Umma Party Welcomes Lifting of sanctions.

Akhbar Al-Youm
* Strict Presidential Directives Banning Fireworks during the Weddings.
* WTO Welcomes Lifting of Sanctions on Sudan.
* PCP Leading Figure Calls for Stopping War in All Areas.
* Foreign Minister Receives Invitation to Visit Kuwait.

Assayha
* Minister of Agriculture Calls for Liberation on the US Dollar Exchange Rate on Importation of Wheat and Drugs.
* Authorities Ban Mariam Al-Mahdi from Travelling to Paris.
* NCP: Dialogue Is Continuous with the US Administration.
* Al-Haj Adam Calls for Constructing Housing Towers for MPs.


Al-Youm Al-Tali
* IGAD Delegation Starts Consultations with S. Sudan Opposition Figures in Juba.
* King Salman Hopes for Stability in Sudan after Ending the US Sanctions
* Khartoum Announces Discount in Lands Transactions.
* Sudanese Political Forces Stick to Removing Sudan from Terrorists Sponsoring States List.

Akhir Lahza
* Ministry of Guidance Fails to Find the Lost Pilgrim Woman.
* Al Bashir Thanks King Salman on His Efforts in Lifting of Sanctions.
* Authorities Seize 32 Sacks of Firearms in a House in Gezira State.
* Sudan and Ethiopia to Deploy Joint Forces on the Borders.

Al-Intibaha
* Al-Mahdi Lashes the Opposition According to JEM.
* Foreign Ministry: Relations with Egypt Not Stable
* Special Matrix to Benefit from Lifting of Sanctions.
* Population Council: We Care about Family Organization.

Al-Sahafa
* Al-Mutaafi Calls for Overstepping Traditional Businessmen and Protecting the Investors.
* Al Mahdi Slams His Allies.
* Government: Security and Justice Coordination in Forceful Collections of Firearms.

Al-Watan
* US Company to Pump US$10 Billion for Investing in Oil.
* Trends to Adapt New Communications Act.
* UN Announces Commitment to Support Development Programmes in Sudan.
* Sudan Receives New Offers from Investment Companies.
---