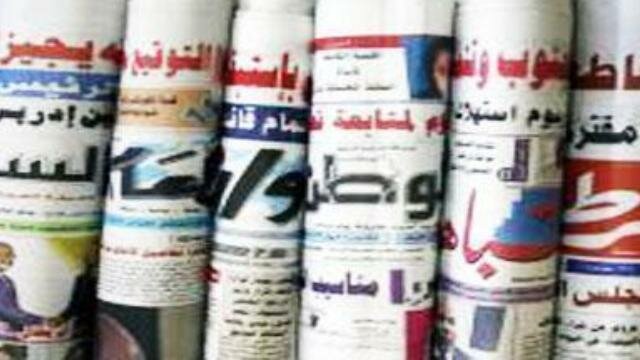 Al-Sudani
* Ghandour: Imminent Visit for High Level US Officials
.
* Bank of Khartoum Opens Transactions in Dollar All Over the world.
* Egyptian Authorities Bans Sudanese Journalists from Entering , Deports Him.
* Washington Representative in UN Congratulates Sudan on Sanctions' Lifting.

Akhbar Al-Youm
* US Embassy in Khartoum Organizes a Press Conference on Lifting of Sanctions.
* Presidency Tanks Gulf States for Supporting Sudan on Lifting of Sanctions.
* OFAC Cancels all Restrictions on Banking Transactions with Sudan.
* NCP Economic Secretariat Calls for Increasing Production and Productivity.

Assayha
* American Oil Companies Allocate US$10 Billion for Investment in Sudan.
* US/Canadian Company Signs a Contract to Establish Silos in Six States.
* Central Darfur Demands UN to Contribute in Developing Golo.
* Health Insurance Raises Subscription to More than SDG40.

Al-Youm Al-Tali
* Army Confiscates 15 Thousand Pieces of Firearms, 500 Land cruisers.
* Washington Allows for Banking Transactions with Khartoum.
*  Students Plan to Benefit from Technology after Lifting of Sanctions.
* Egypt Welcomes Lifting of Sanctions on Sudan.

Akhir Lahza
* Dollar Exchange Rate Continues Decline.
* US Administration: We Desire to Remove Sudan from Sponsoring Terrorism States.
* Government: Understanding with US Administration reach Its Edge.
* Arab and African Welcome to Lifting of US Sanctions on Sudan.

Al-Intibaha
* Presidential Aide: We Will Not Rely on Lifting Sanctions Only to Resolve Our Issues.
* Arab and African Youth Leaders Welcome Lifting of US Sanctions.
* SPLM-N Ends A Meeting under the Chairmanship of Al-Hilu.
* US Administration: Khartoum Is Coordinating in ant-terrorism Activities.

Al-Sahafa
* UN Agencies Welcomes Lifting of US sanctions on Sudan.
* Arab Parliament Welcomes Lifting of Sanctions.
* Prime Minister to Address Parliament on Sanctions' Lifting.
* CBOS: Lifting of Sanctions Means Mergence with the World.
---