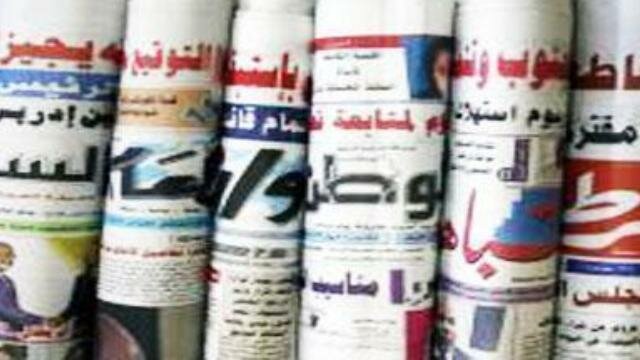 Al-Sudani
* President and Kings Congratulate Al Bashir on Lifting of US Sanctions
.
* Broad Reaction to Lifting of US Sanctions on Sudan.
*Blue Nile Bridge Closed for One Year as of Today.
* Egyptian Ambassadors Delegation Visits Khartoum.

Akhbar Al-Youm
* US Administration: We Lifted the Sanctions Because Sudan Achieved Progress on Human Rights and Counterterrorism.
* Sudanese Study: US$500 Billion Economical Loses During US Sanctions.
* NCP Thanks Trump Administration for Lifting of US Sanctions.
* RSF Congratulates Sudanese people on Lifting of US Sanctions.

Assayha
* Sudan Farewells Two Decades of US Sanctions.
* Washington Calls for Accomplishing Peace and Improvement of Freedoms.
* Blue Nile State Leading Figures Desire to Meet Mbeki.
*SPLA Affirms Retaking Wat Area.

Al-Youm Al-Tali
* Lifting US Sanctions, A New Dawn for Sudan.
*  Officially Washington Ends 20-years Siege on Sudan.
* Ministry of Industry Welcomes Lifting of US sanctions.
* Investment Ministry Announces Reforms to Meet the Lifting of Sanctions Stage

Akhir Lahza
* Central Darfur Enters Actual Production Stage of Minerals.
*  Finance Ministry: Next Budget will Meet the Aspirations of People.
* Al Mahdi Cancels Meeting for Unification of Opposition Due to the Apology of Agar.
* CBOS Announces readiness for post lifting Sanctions Stage.

Al-Intibaha
* USA Sanctions on Sudan Lifted.
* Ibrahim Mahmoud: Government Did Not Provide Any Concession for Lifting of Sanctions.
* President of Somalia Concludes Visit to Sudan.
* Machar Movement Agrees on Consultative Forum to Revive Peace Agreement.

Al-Sahafa
* Washington: Khartoum Proved Seriousness in Cooperation with the US Administration.
* Consolations with Belarus Companies to Establish New Silos.
*  Disputes on Self-determination might Abort SPLM-N Conference in Kauda.
* MPs Calls for Concentration on Health and Education in the Budget.
* Sudan Participates in COMESA Meetings in Zambia.

ARay Al-Aam
* Government: Trumps Decision Ends the Siege Completely.
* Political Powers Optimistic on Lifting of Sanctions.
* King Salman Congratulates Al Bashir on Lifting Sanctions, Pledges to Upgrade Saudi Investments.
* Authorities Announce Measures to Contain the Closure of Blue Nile Bridge.
---