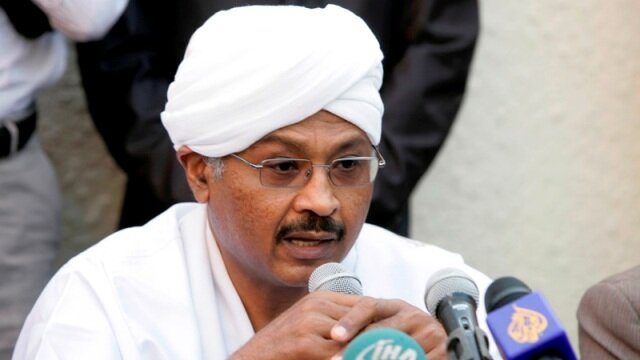 Khartoum – National Umma Party leading figure, Mubarak Al-Fadil announced his party's participation in the national dialogue to achieve national consensus.

Other political parties, namely Future force for Change, National Forces Alliance, and Sudanese National Alliance under ex-presidential candidate Mahmoud Abdul Jabar, also announced its jointing the national dialogue process.
The recent few hours witnessed shuttle political moves and meeting with the national dialogue general secretariat and the high coordinative mechanism where the arrangements for the general conference were discussed.
The coordinative mechanism welcomed the joining of those influential political forces to the peace process.
Coordinative Mechanism member, Saad Omer affirmed that the participation of Mubarak Al-Fadil will push forward the process, calling on other holdouts to join the national dialogue.
For his part, Mubarak Al-Fadil said in press statements that they decided to participate in order to reach political compromise to stop war. He added that the outcomes of the national dialogue represent the aspirations of the Sudanese people and meet the opposition demands in regard to freedoms, peace and governance.
He said that they will work with others to translate the governance principles on the ground, besides convincing the holdouts to join the process.

National Forces Alliance leading figure Mustafa Mahmoud announced their jointing the national dialogue, adding that the upcoming stage will witness the implementation of the national dialogue outcomes, calling on all Sudanese sectors to overcome the challenges which require working together to achieve the aspired goals.
Future forces Leading figure, Abdul Gadir Ibrahim affirmed in press conference after meeting the coordinative mechanism that signing the document means that they have become part of the national dialogue.
For his part, coordinative mechanism member, Osman Abu Al-Majd affirmed the completion of all the arrangements for the general conference with a procedural session this morning to discuss the report of the committees.
National Dialogue Mechanism member, Fadl Alseed Shuaib said that the coordinative mechanism held 61 meetings since the launching of the dialogue in 27 January 2014 to reach this stage of implementing the outcomes of the dialogue.
Popular Forces for Rights and Democracy, Hisham Nourain welcomed the joining of the National Forces Alliance and other forces to the national dialogue process.
---